Add dimension and texture to your designs with our 1 Color and Multidimensional Screen Printed Puff transfers!
We're so glad you asked! Our Puff Screen Printed Heat Transfers are created by screen printing specialty plastisol ink onto paper. The ink has been formulated to 'puff' when heat applied, creating a super cool, 3D puffy effect. Our puff transfers will provide the height you're looking for without having to worry about weeding vinyl. All you need is a heat press, and our high quality heat transfers to turn your idea into reality!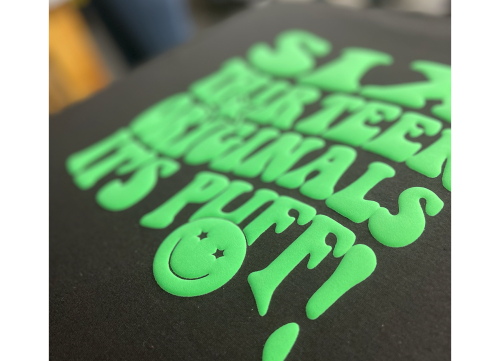 Why We Love Puff Heat Transfers
Highly opaque on dark fabrics - you can decorate on any color, without compromising the vibrancy of your design!
Comes in 16 different colors, so you don't have to limit design ideas!
Great for bold, trendy designs - Take advantage of the latest retro craze and add a puffy effect to those amazing 70s-inspired fonts you're looking to use
Long shelf life means you can keep profiting without the waste. When stored properly, our transfers can last 3+ years!
Keep your shop clean with just a heat press and heat transfers. Never worry about screens, buckets of ink, washout, etc.
What Do the Puff Colors Actually Look Like?
We offer 16 puff stock colors: White, Black, Brown, Red, Orange, Gold, Yellow, Teal, Green, Mint, Blue, Aegean, Purple, Lavender, Coral, and Pink. We cannot provide an equivalent Pantone® color like we usually do, as the nature of 'puffing' the ink does alter the color slightly depending on the garment you apply the transfer to.
Interested in seeing how puffy they look in real life? Order a puff swatch sample pack here.
Here are some photographs of our applied puff transfers for reference:
| | |
| --- | --- |
| | Red Puff |
| Orange Puff | |
| | Gold Puff |
| Yellow Puff | |
| | Green Puff |
| Teal Puff | |
| | Mint Puff |
| Denim Puff | |
| | Blue Puff |
| Purple Puff | |
| | Lavender Puff |
| Pink Puff | |
| | Coral Puff |
How Do I Order Puff Heat Transfers?
Check out this easy step-by-step tutorial on how to place an order on 613originals.com
Or click here to learn more about pricing and turnaround times.
What Heat Press Should I Use?
Check out this list of commercial heat presses we love.
How Do I Apply Puff Heat Transfers?
It's super easy! We provide detailed instructions on how to apply all of our heat transfers here. We can't wait to see what you come up with!