Follow these easy steps to place a screen printed heat transfer order on 613originals.com
The 613 Originals Digital Storefront makes it easy to place your order online. In this tutorial, we'll explain step-by-step how to place an order.
Step 1: Let's Get Started!
You can access the Digital Storefront in one of two ways:
Go to www.613originals.com and click on the Account button located on the upper right corner of the top navigation bar. We've circled it in the image below.

This will take you to a page where you can Register a new account or Login.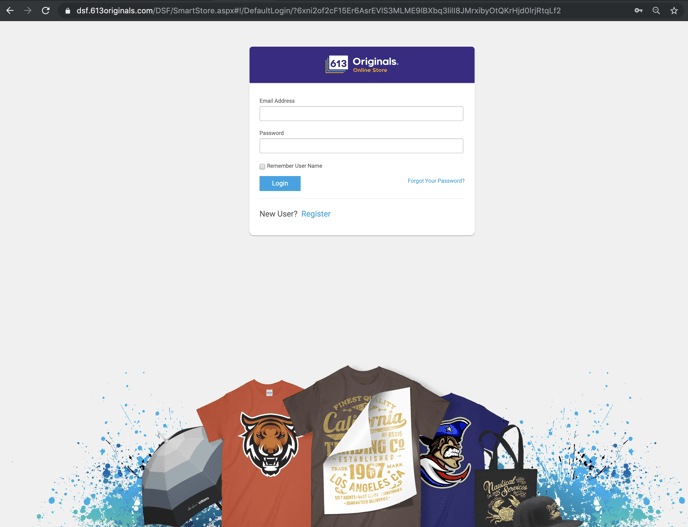 2. Access the Digital Storefront directly here: https://dsf.613originals.com/DSF. If you are not yet logged in, you will be prompted to do so.
If you are a new user, click on New User? Register. Input your information to create an account. Once registered, you can begin to place your first order!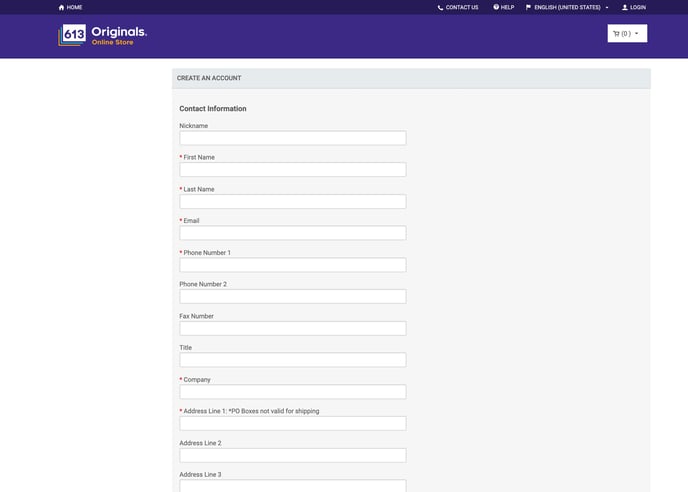 Step 2: Choosing A Product
Now that you've registered/logged in, you're ready to select the product you're looking to order. Find the Product menu, located on the left side of the page. Each formula is separated into its own category. Not sure which option is right for you? Click here to learn more about our formulas and how to determine which will work best for your project.
In this tutorial, we're going to order a Varsity Formula product, highlighted in blue in the image below.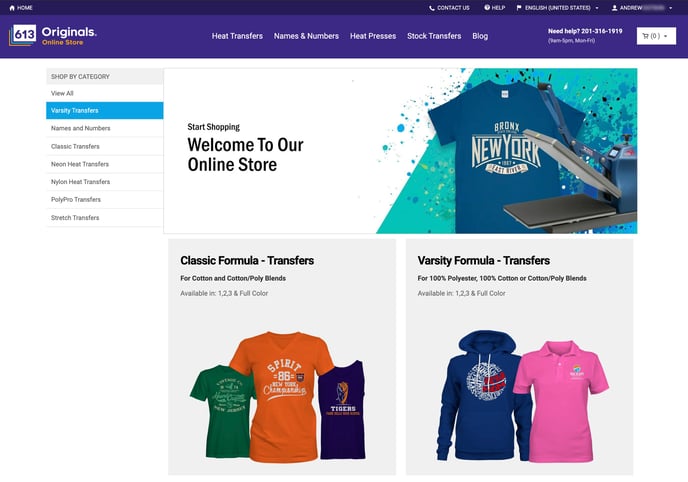 Next, select the number of colors you need. Depending on the formula selected, you may see 1 Color, 2 Color, 3 Color, and/or Full Color.
We're going to select 1 Color.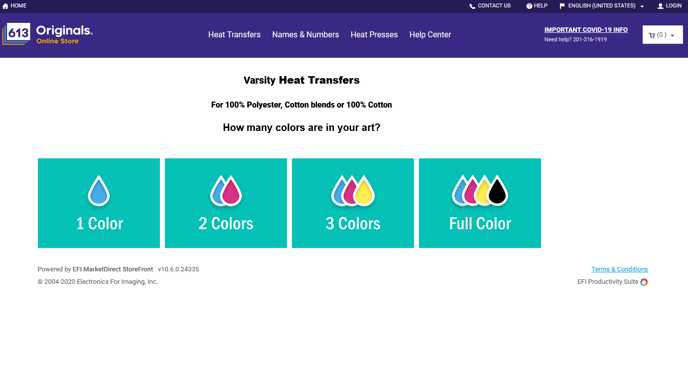 Next, select the sheet size you need to order. Please note, we will print your artwork at the exact size of the artwork you upload. Select the smallest sheet size that your artwork will fit on. Need help resizing your artwork? Click here to request Art Services.
You may also need to choose between a Single Image or Gang Sheet option. Click here to learn more about what a Gang sheet is.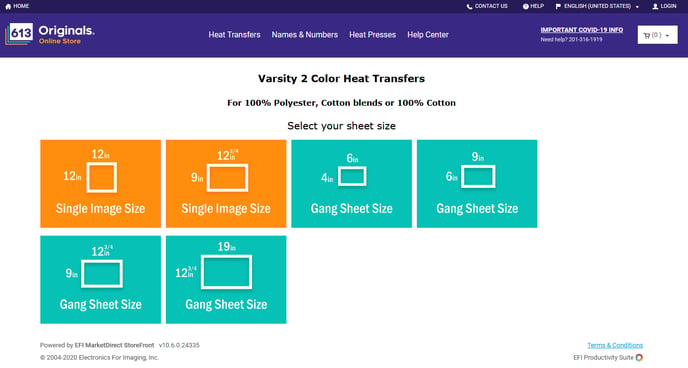 We've chosen the 9"x12.75" Single Image option to take advantage of the 15¢ transfer deal.
Step 3: Uploading Your Artwork to the Canvas
The Canvas is where you'll upload your artwork and enter all details needed to print your order.
If you're ever unsure which product you selected, you can reference the top left corner of the navigation bar. In the image below, you can see that it lists the product as Varsity 15 Cent Transfer.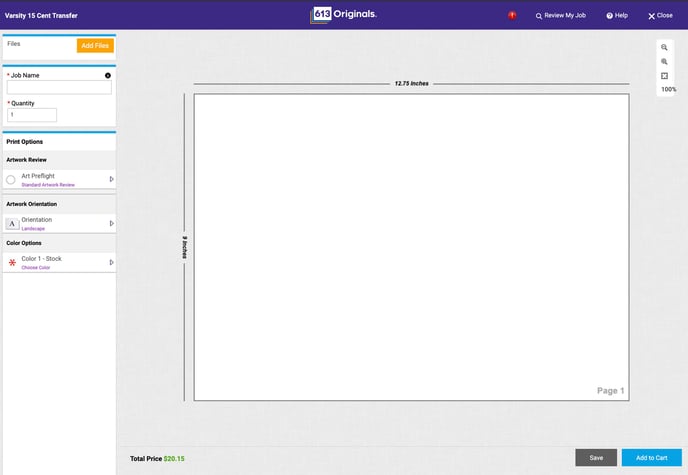 Begin by clicking the orange Add Files button. You'll be presented with 3 options: Upload Files, Saved Files, and Other.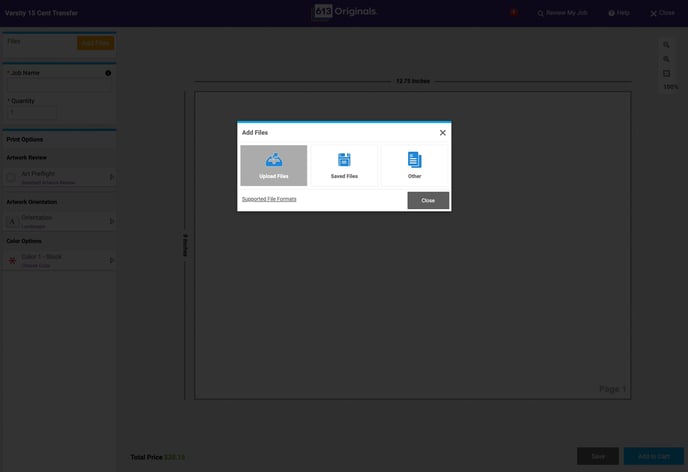 Choose Upload Files for new artwork.
Choose Saved Files to reorder artwork you've ordered previously. If the 'Save to My Files' button was selected when the original order was placed, your file will be available for 6 months to reorder. You can see the 'Save to My Files' option in the image below.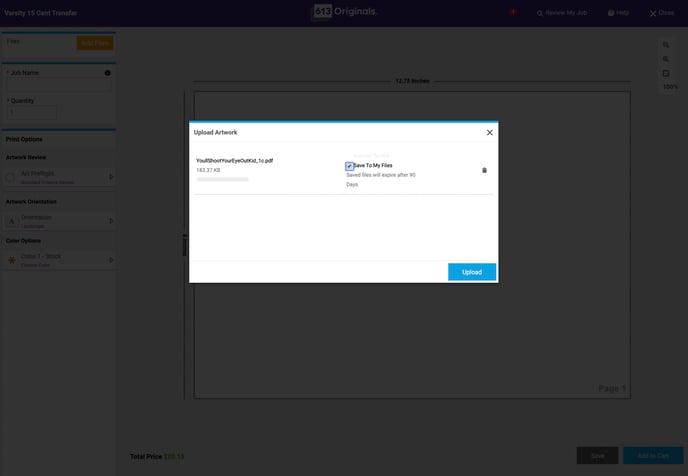 Once you've selected the art file, you will see a preview of it in the canvas preview.
Next, enter the required details: Job Name, Quantity, Artwork Review, Artwork Orientation, and Color Options (if applicable).
Job Name: The label for this particular part of the order. Great for categorizing/organizing your projects.
Quantity: The number of transfer sheets we will print.
Artwork Review: Let us know how you'd like our pre-production team to review your artwork. We offer two options:

Standard Review (Recommended for beginners and/or complex artwork): Our pre-production team will perform a 15-point check on your design to ensure it's ready to print. If there are any questions or concerns, we will send a detailed email with options for getting your artwork adjusted and back on track. If your file passes our checks, it will be sent to production without delay.
Print As Is (Recommended for experienced designers): You're a superstar! This is your way of letting us know that your artwork is ready to go and does not need our team to review before production. Even if your artwork falls below our recommended printing guidelines, you're asking us to print the artwork as submitted, understanding that the final print quality may be compromised.

Artwork Orientation: This controls the preview of your artwork in the canvas. If you need to rotate your artwork preview so that it does not appear cut off, you can adjust the orientation from Portrait to Landscape. Please note, if your artwork appears cut off, even after rotating the artwork, this may mean your artwork's size is larger than the sheet size selected. For assistance, please contact support@613originals.com
Color Options (if applicable): The color your transfers will print. If you selected a Full Color product, this option will not be available as we will print the CMYK values in your artwork.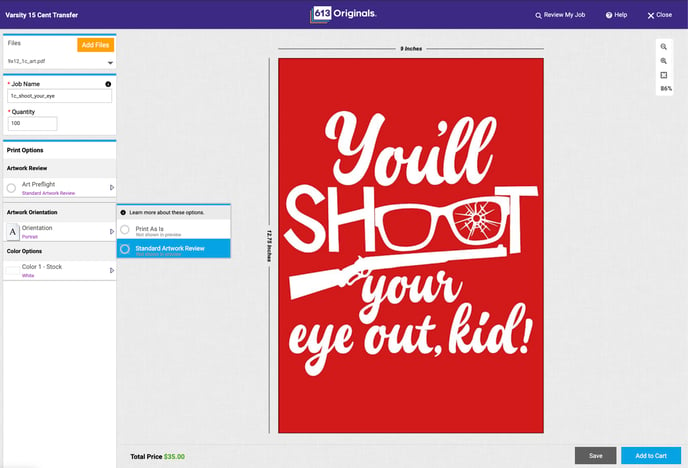 We will choose the color White for this tutorial. Please note, when ordering 1, 2, or 3 Color Spot, it's okay if your artwork is not the same color of the ink color selected. Our team will make any necessary adjustments.
Interested in ordering a Custom Pantone® Color? Click here for a more detailed tutorial on how to choose a custom color.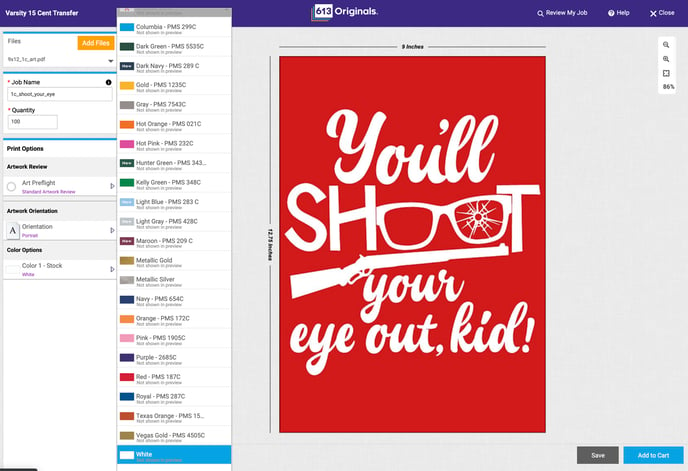 Once you've add all these details, you review the pricing by hovering over the Total Price to the bottom left of the canvas preview. We've shown this in the image below.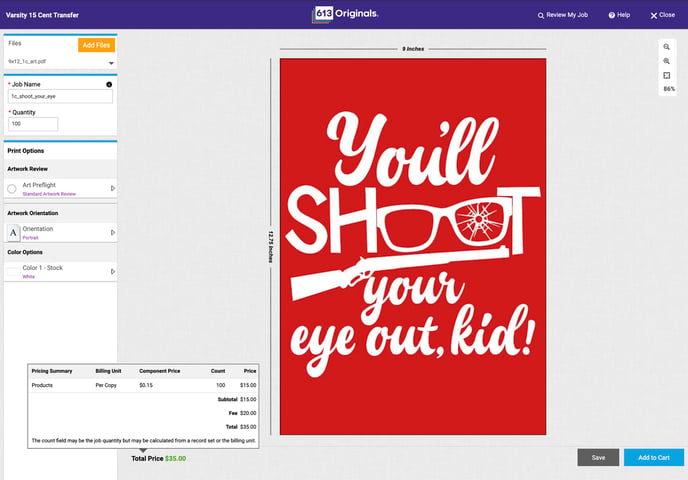 Once you've confirmed everything looks good, click Add to Cart located in the bottom right corner of the Canvas. This will add the part to your cart, and take you to the Cart page.
When in the Cart, you can edit the Quantity, if needed. If you need to order more items, select Continue Shopping.
If you're ready to complete your order, select Proceed to Checkout.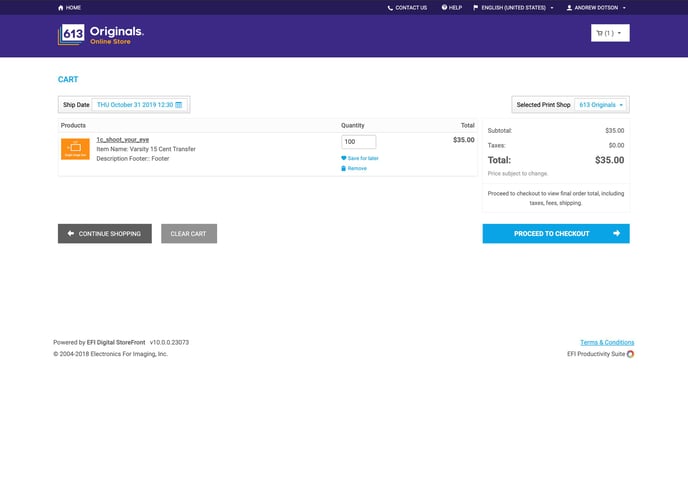 Step 4: Check Out: Shipping & Billing
First, select a shipping method. Then enter your shipping address.
You can select a previously saved address by clicking Add from Address Book or you can add a new one by filling out the form.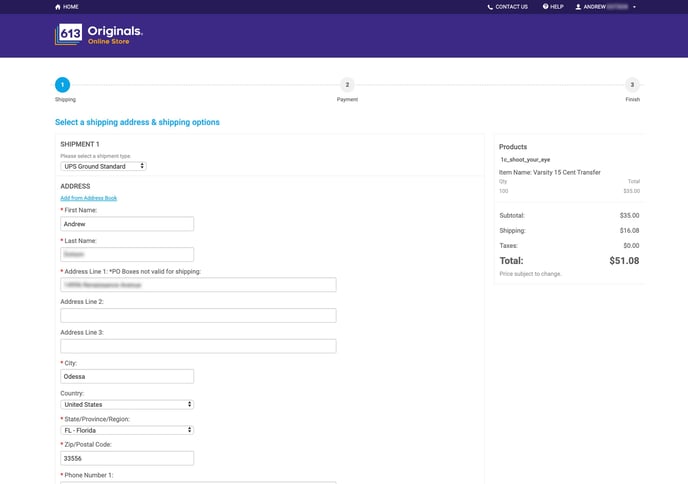 Once you have verified your shipping method and shipping address, please read the terms/restrictions.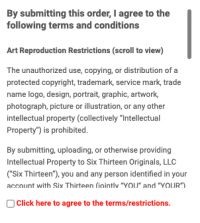 Once you've agreed, click Proceed to Payment.
Next, select your payment method and enter your payment information. We recommend reviewing the products and quantity one last time before finalizing your order. If all looks good, click Place My Order!
Huzzah! You're all set. You'll receive an order confirmation email with additional order details.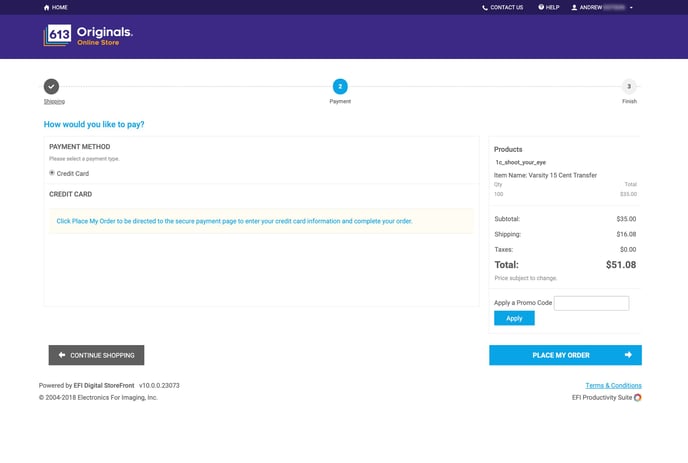 Thanks for placing an order with us! We can't wait to get started on your order.