Find out how to request a custom Pantone® Color for spot color gang sheets on 613 Originals website
We offer a large variety of Stock colors, but we can also print any color from the Pantone® Solid Coated Color book through our Varsity, Classic, Nylon, NonWoven, and Vintage formulas. Custom Pantone® matching is only available when choosing a "Gang" sheet option for an additional fee.
Here's how to order a Custom Pantone® Color:
Step 1: Navigate to our Digital Storefront and Choose Your # of Colors
Select your formula and number of colors. Remember, Custom Pantone® Colors are only available in 1, 2, and 3 Color programs.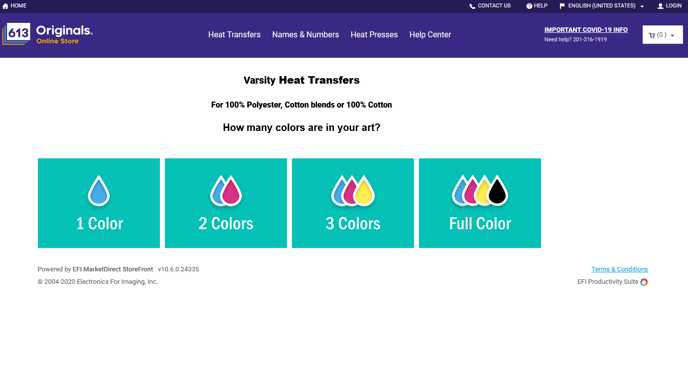 Step 2: Choose Your Sheet Size
Choose the sheet size you wish to use based on the actual size of your artwork. We offer (4) different sheet size within the "Gang" sheet options.
Be sure to choose a sheet size with a "Gang" sheet option. Custom Pantone® Colors are not available through the "Single Image" programs.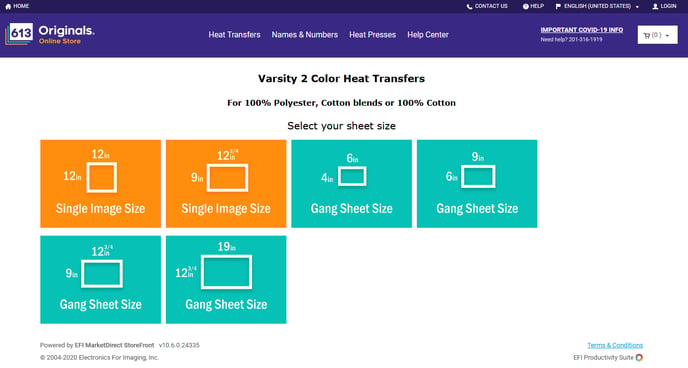 Step 3: Upload Your Artwork and Choose Custom PMS
Upload your art file, enter your Job Name, enter the Quantity, and select the Artwork Review and Artwork Orientation options.
The final section is the Color Option section. This is where you will choose your colors for your order. Select your first color from the Color Options dropdown list.

In the example below, we have chosen White for the first color and have chosen Custom PMS (+$30) for the second color. Note: The order you choose the colors does not matter.

Once the Custom PMS (+$30) option is selected, another field will appear. This is where you will type in the Custom Pantone® color you want us to print.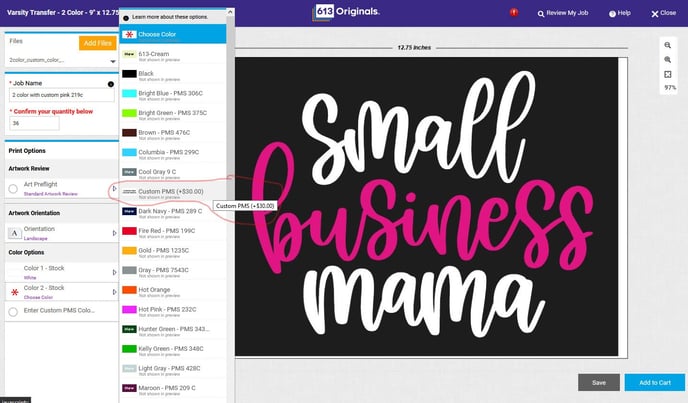 Step 4: Type in Your PMS Color
Enter your Custom Pantone® Color in the pop-up window. Please verify the Pantone® number is correct and also provide a description of the color. Example: Bright Pink 219 C or PMS 1505 C Orange.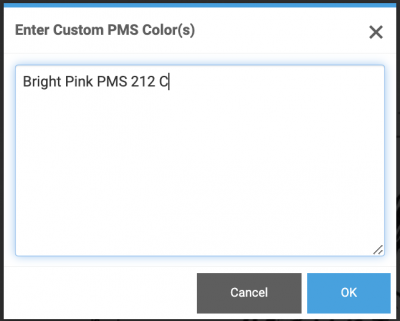 And that's it! Once completed, simply add the order to the cart.
Enjoy your Custom Pantone® Color!