Invest in your side hustle with one of the best heat presses in the industry. This list is packed with quality heat presses to grow your t-shirt business.
Tired of ruining your expensive garments with heat presses that just don't work?
Say goodbye to cold spots and never-enough-pressure machines, and say hello to the best heat presses in the industry.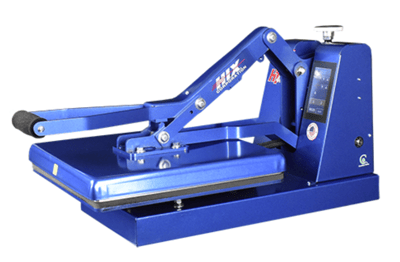 HIX® Corp HT 400
The HT-400 Manual 15" x 15" Clamshell Press is rugged, durable, and made to perform. A must-have for any serious start-up business, the HT-400 has earned respect for its numerous capabilities and reliability. The easy-to-use open-and-close handle has spring assist and a full range pressure adjustment, provides even pressure on thicker items, and adds 20% more pressure over straight handle designs.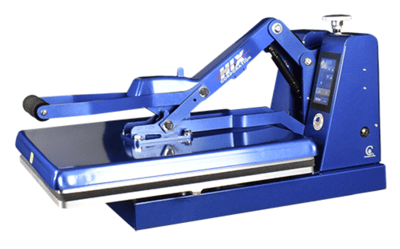 HIX® Corp S650 Semi Automatic
The EVO Touch S-650 Manual 16" x 20" Clamshell Press utilizes an electronically activated mechanical latch release mechanism with a gas shock assist to help enhance and support your operations. This helps to reduce fatigue and increase productivity. Direct-To-Garment applications are also a large driving force in the success of the auto-open feature, allowing you the freedom of loading your printer while the last print is curing, eliminating any risk of scorching or compromising transfer quality due to overheating.
---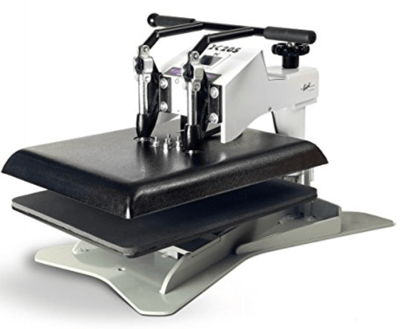 Geo Knight & Co Inc DK20S
The Digital Knight DK20S is Geo Knight & Co's 'flagship' 16x20 swing-away heat transfer press. The DK20S combines a heavy-duty solid steel industrial grade pressing framework with accurate and easy to use electronics to provide the operator with the best possible features and equipment needed for today's various heat transfer applications.
Geo Knight & Co boasts that this press is the most popular 16x20 machine in the industry. There is also a Jumbo sized 20x25 heat platen version of this press, the DK25S. An air-operated automatic version is also available: the DK20SP.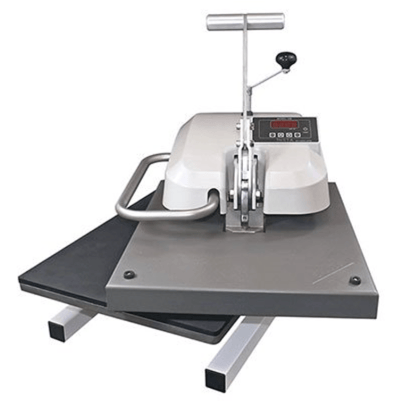 Insta Graphic 256 Press
The award-winning Model 256 Manual Swing-Away heat press machine with 16″x20″ platens swings almost a full 180° to the right – providing you with unobstructed access to the lower platen while you load your garments and place your transfers. The new Quick-Change platens allow you to quickly swap your lower platen with any of Insta's new accessory platens. The quick-change feature also allows you to quickly rotate the lower platen in a matter of seconds to suit your applications.
Disclaimer
We are not affiliated with any of these companies - we just love their products and know that our clients do too!